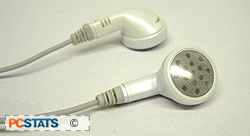 Instructions are kept to just one fold out piece of paper, and because this is a USB hard drive, it might be lost on some users that you don't need any software to run this puppy - simply plug into a USB slot and wait for Windows2000 or WindowsXP to recognize the device and automatically configure it.
If you still use Windows98SE, you will have to use the included driver CD to set up the computer the first time.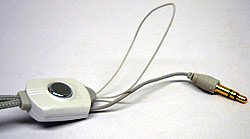 After that, data or music files can be dropped into the device with nothing more sophisticated than Windows Explorer. Apart from the drivers, there is one special format utility included on the CDROM called MSI-551X Format, which you should use to maintain the memory integrity if you ever experience problems with corrupted data.
Accessories included with the MegaStick1 are limited to a pair of lanyard-totting headphones. The sound quality from the ear buds is pretty good, and the integrated lanyard makes this an easy MP3 player to wear around the neck without fear of it falling off easily; say if you're jogging to the store.
A bit of string loops into to the top of the player, and this locks into a small catch on the lanyard; basically allowing you to remove the MP3 player from the headphones if necessary.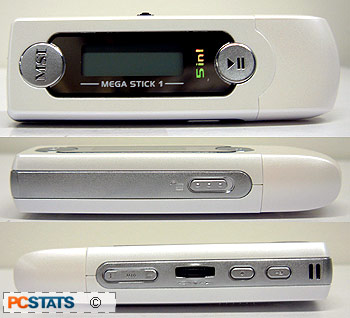 However, I don't think the MP3 player around-the-neck ethic is as strong in North America as it is in Taiwan where everything from cellphones to the new mini-VISA credit card gets slung around the neck on a bit of string.
Top: While it looks as though there are two control buttons, only the play/pause works. In practice, the button is flush to the surface of the drive, but unless the control lock is toggled, can easily get activated.
Right Side: The hold switch comes in really handy when you have the Megastick1 in a pocket, otherwise buttons can get pressed pretty easily.
Left Side: Starting from the left we have the volume control, menu jogdial, record, function and microphone opening.
The jogdial is sensitive, and it takes some getting used to before we were able to easily maneuver through the functions (radio, MP3, recorder). Remembering to stop MP3 playback before hitting the function key helps too. ;-)