The Basic Rundown on IDE RAID
RAID 0 is not really considered a true RAID since there isn't any data redundancy. RAID 0 takes two drives of the same size/configuration and stripes them, meaning it makes one big drive out of two equal ones. This improves performance by cutting hard drive latency in half. Since the data is divided equally and written on two hard drives it also increases the data bandwidth by two. The reason it's not considered true RAID is because if one drive fails, all data is lost.

RAID 1 on the other hand mirrors two drives of the same size, so in theory if one drive fails, the other will take over as the primary hard drive and the system can continue to operate normally. This is what is supposed to happen with a SCSI hard drive setup and it actually works pretty well there.
The IDE sub system doesn't allow hard drives to be disconnected while the computer is still powered up and in use like SCSI can unless you have a special HDD tray. Generally, when one IDE drive fails the system usually locks up anyway. The data is safe since it's mirrored on the other drive which is the real benefit.
Finally, with RAID 0+1 you need four hard drives of the same configuration/size. What RAID 0+1 does is stripes two sets of two hard drives with one set given RAID 0 status, and the other RAID 1. What this does is offer the best of both worlds, the high performance of RAID 0, with 100% data redundancy of RAID 1. Hence the name RAID 0+1. The only downside is the need for four identical hard drives for 1/4 the total storage space.
Epox has jumped on the SiS bandwagon early and adopted the SiS 645 for its EP-4DSA+ motherboard. DDR chipsets still really don't offer enough memory bandwidth to keep a Pentium 4 happy, but they are a big step up from SDRAM.
Running at a 400 MHz FSB, Pentium 4 processors demand 3.2 GB/s of memory bandwidth, however PC2100 DDR only offers 2.1 GB/s. DDR333 a.k.a. PC2700 is heading in the right direction, but as you can see, 2.7 GB/s is still 500 MB/s shy of the required 3.2 GB/s.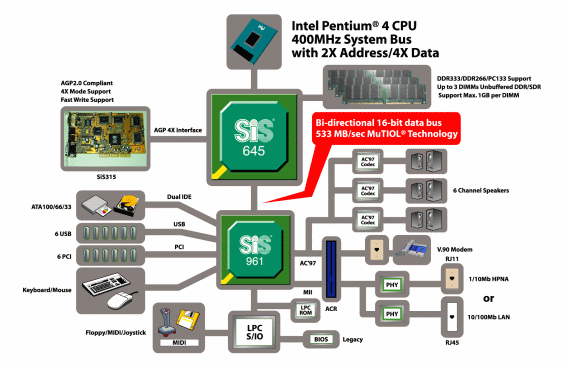 The SiS 645 northbridge/SiS 961 southbridge combo is very powerful with a dedicated 16 bit data bus between the northbridge and southbrige that offers 533 MB/s worth of bandwidth.
SiS have set it up this way because back in the day of the i440LX/BX having the two chipsets communicate through the PCI bus was fine, but nowadays the PCI bus is kind of saturated with other components. Since things are always getting faster and the name of the game is bandwidth, SiS didn't want the Northbridge and Southbridge to have to fight for the measly 13MB bandwidth the PCI bus offers. This is why SiS have decided to have a dedicated system bus for their chipset.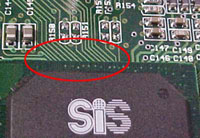 Circled is the 16bit data bus.
The SiS645 natively supports 400 MHz P4's with up to 3 GB of DDR memory. We don't have three 1 GB DIMM's sitting around to test this out, but we did fill all three DIMM slots with 256 MB DDR modules and there were no stability problems. The SiS 645 also supports 4x AGP which is pretty much standard these days.
The SiS 961 southbridge is starting to get dated as it only supports Ultra/100 hard drives (Ultra/133 controllers/HDD's are gaining steam currently). While having 6 USB 1.1 ports is nice (there are two 2 port riser cards included) it seems that USB 2.0 is gaining a lot of momentum as well.