Abstract: With no real loyalties towards any company in the computer industry, we're going to be looking at an Intel based system and an AMD system.

Home > Reviews > Computer / SFF PCs > Various
Now it's AMD's turn...
Processor: AthlonXP 2000+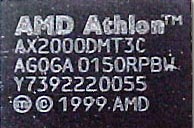 The AthlonXP 2000+ is king of the hill on the AMD front. With a true speed of 1.67 GHz, it can take on Intel's best and still come out on top. Built on the 0.18 micron core, the AthlonXP is near the end in terms of MHz with this core. When AMD switches to the 0.13 micron manufacturing process, they should be able to ramp up the actual speed of the chip quite a bit more. The AthlonXP has Quantispeed Architecture which includes Intel's own SSE technology, 3D Now! and a host of other advancements. The AthlonXP 2000+ like the Pentium 4 2.2 GHz can take on any application out there and not even break a sweat! Since these chips are using 0.18 micron tech, they don't overclock as well, usually maxing out at around 1.8-1.9 GHz.
The AthlonXP 2000+ is relatively cheap as it only goes for $445 CDN.
Notables: AthlonXP 1900+ $340 CDN, AthlonXP 1800+ $250 CDN
Motherboard: Abit KR7A133-RAID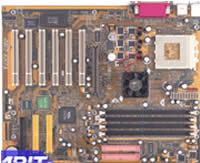 It looks like Abit has swept the motherboards this round and it's not surprising either. Based on VIA's KT266A chipset it's a given that the board will perform well and the KR7A133-RAID doesn't disappoint. Having four DIMM slots and six PCI's offer users lots of room for expansion. We have chosen to use the RAID version of this board because the Highpoint HPT372 offers RAID's 0,1 and 0+1 or can be used as a standalone IDE controller. To top it off the KR7A133-RAID has Abit's award winning Softmenu III allowing overclockers/enthusiast to fully take advantage of their system.
Abit has historically been just a tad more expensive then most and their KR7A133-RAID is no exception at $260 CDN.
Notables: Epox 8KHA+ - $195 CDN, Asus A7V266-E - $250 CDN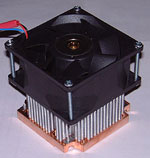 Heatsink: Swiftech MCX462
This was probably the hardest decision to make. Since the enthusiast market has embraced AMD as their darling, there have been many good heatsinks for AMD processors. Easily one of the best heatsinks out there is the Swiftech MCX462. Able to cool down any processor with no problem, this heatsink even rivals some water setups! With 371 threaded aluminum rods plugged into a a thick copper base, the Swiftech MCX462 is simply a work of art and the quality is unmatched by most. The stock 80mm Delta is not as annoying as it's 60mm brother while loud since it does push 60+ CFM thankfully there isn't that high pitched sound.
The Swiftech MCX462 isn't cheap, it's probably one of the most expensive heatsinks you can buy for any socketed processor at $110 CDN.
Notables: Alpha PAL8045 + 80mm Delta Fan - $85 CDN, Thermalright SK-6 + 60mm Delta Fan - $55
Memory: 1 GB Corsair XMS PC2400 DDR RAM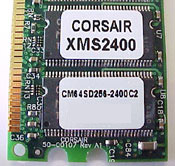 Corsair has been producing quality RAM since 1994 and their XMS2400 DDR is simply the best RAM we've ever tested. Guaranteed to run at 150 MHz with a CL rating of 2 many times, the XMS2400 would perform well above that. Our two test samples both did 170 MHz FSB with the most aggressive memory timings without a single problem.
Corsair knows that this RAM is premium memory and you'll find that the XMS2400 is often times the most expensive there is. At $ 720 CDN for 1 GB of DDR it's quite expensive by anyone's standards.
Notables: 1 GB OCZ PC3000 DDR - $600 CDN, 1 GB Crucial PC2100 DDR - $640 CDN
SEARCH PCSTATS

---

Use the power of Google to search all of PCSTATS and the PCSTATS Forums. Tell us what you think of this new feature - FEEDBACK?