| | |
| --- | --- |
| General News | |

... 27 news stories awaiting approval
SilentiumPC Regnum RG2 TG Pure Black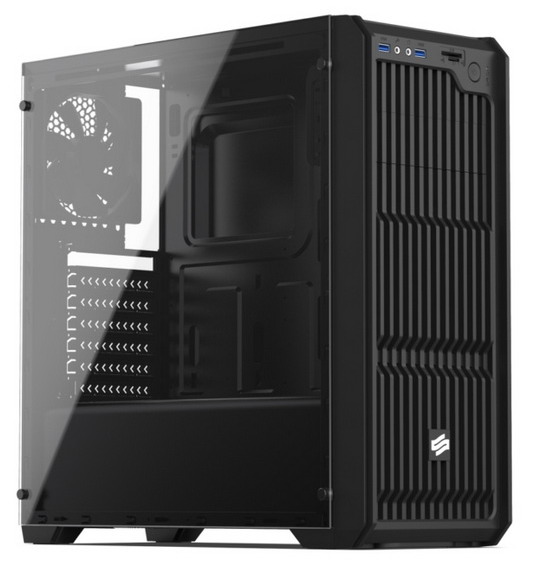 The European cooling and PC case brand SilentiumPC upgrades its airflow-oriented Regnum RG2 case by adding a tempered-glass side-panel. While being part of the entry-level portfolio of the SilentiumPC lineup, Regnum RG2 has surprisingly much to offer. It merges a bold yet classy front-panel with a modern interior layout and an extended I/O panel, making it a great choice for reasonably priced gaming systems.
Regnum RG2 TG is designed to surpass the user's expectations of an average entry-level chassis. The clean and well balanced exterior design with a big tempered-glass side-panel gives a great view on the components inside the roomy interior. SilentiumPC uses the dual-chamber layout, which dramatically improves airflow and benefits cable management.
Being compatible with ATX motherboards, long power supplies, graphics cards up to 380 mm and CPU coolers up to 160 mm, it allows for flexible choice of components. Also available are two external 5,25" drive bays as well as two 3,5 and two 2,5" internal drive bays for desired HDD/SDD configurations.
The chassis comes equipped with two quiet Sigma PRO 120 mm fans and supports up to six 120 mm fans in total. By installing the first case fan in the front and the second one in the rear of the chassis, Regnum RG2 is able assure great airflow right out of the box. All intake holes are covered with dust-filters. Regnum RG2 is also compatible with both single and dual radiator all-in-one watercooling solutions.
All I/O ports are located at the top of the panel, including power and reset buttons, mic and headphone jacks, two USB 3.1 (Gen. 1) ports and a built-in card reader for both SD and MicroSD cards.
The Regnum RG2 TG is going to be available in the next days at 39,90 EUR (MSRP, incl. VAT) in Europe.

ECS to set up new factory site in Southeast Asia

Elitegroup Computer Systems (ECS) will set up its second factory site in Southeast Asia with volume production expected to begin in March or April 2019, according to company general manager Yang Lung Kuang.

EVGA Z390 FTW Motherboard Review

"One company that sort of hides under the radar when we have a new chipset launch is EVGA. We all know EVGA for their graphics cards, but their motherboards are less known. One thing I've liked about EVGA is how they haven't conformed like everyone else and overloaded their motherboards with RGBs and things that just aren't needed. With the Z390 launch EVGA's first motherboard is the Z390 FTW, which is will eventually sit in the middle of their Z390 product stack once other boards are launched. This board looks quite similar to the Z370 FTW board, but does have a few changes. We will be combining this board with our Core i9-9900K to see what it can do! Read on to find out!"

Kingston HyperX Fury RGB 480 GB

The HyperX Fury RGB SSD features full RGB control, using 75 bright LEDs, which, once connected to the RGB header of your motherboard, can be adjusted to the exact color and brightness you want, to match other components in your system perfectly.

XFX RX 590 Fatboy 8GB Review - better than Sapphire Nitro+

With a very 'interesting' name, shall we say, the RX 590 Fatboy is certainly going to grab your attention. Priced at £250, too, it is one of the cheaper cards we have seen based on AMD's new 12nm Polaris technology. Is it worth buying?

Sony WI-C600N Wireless Headphones

Sony has just launched the new WI-C600N wireless headphones with noise-cancelling technology! Catch a glimpse of this latest Sony music gadget right here!


Logitech M238 Marvel Wireless

The new Logitech M238 Marvel Wireless Mouse collection arrived! Check out the awesome new wireless mice from Logitech right here!


HP Spectre Folio Review

Meet the HP Spectre Folio, the company's latest ultra-portable 2-in-1 13-inch hybrid notebook that embraces a bit of what also makes things like luxury cars great – high-quality leather and classy design. While Microsoft only adorns its keyboards with Alcantara, HP covers the entire Spectre Folio exterior in supple, textured leather that transforms it into a more organic accessory, rather than just a sterile productivity, entertainment or content creation tool. This isn't your grandma's Honda Civic-grade leather either; think more on the level of an Audi A8 with the aromatic properties of a Bentley...

ADATA SX8200 Pro 1 TB

The ADATA SX8200 Pro comes with a faster controller, which improves the performance of TLC significantly. Especially heavy writes see big improvements, with results that almost make this drive look like MLC. Pricing is extremely reasonable, too: only 21 cents per GB. The SX8200 Pro is both faster and cheaper than the Samsung 970 EVO. Please send all your news

20 of the Worst PC Setups

I'm sure at some point you've had a bad PC setup. Maybe moving into a new place, waiting for a new desk to arrive or you just ran out of room. I can remember my horrible PC setups from when I was living at the dorms in college. If you have ever ventured over to the Shitty Battlestations sub-reddit you will find a lot of horrible PC setups. We will are going to pick 20 each month and feature them as 20 of the Worst PC setups for that month. Here are some of the bad ones from November."

Fyrst_Igor's Trickster Rogue Build

"This is Fyrst_Igor's Trickster Rogue build. He's one of the best TRs I know in the game and spends an extensive amount of time testing and working his TR. This build is targeted at doing maximum damage, also known as a "glass cannon." I recommend having a good tank and a party full of people running Shepherd's Devotion insignia bonus (but that goes for pretty much any party)."

Keezel Travel VPN Review

Keezel is a captured VPN, it offers all of the privacy of a traditional VPN in a small form factor device. A Web-Based GUI offers an easy to use interface that's takes all the pain of configurations and management and put it into a few clicks here and there. Keezel is battery powered with a 7000mah battery that is said to last 10 hours on Wi-Fi while having a rear facing port for charging your devices; it offers 802.11n connectivity with AES256bit encryption.

Tesoro Gram Spectrum TKL Keyboard Review

"Just about two years ago Tesoro released their Gram Spectrum keyboard. This full-size keyboard offered a more low-profile design, but still gave you the quality of mechanical key switches. Since the success of that keyboard Tesoro is now offering a TKL or tenkeyless version of the iconic keyboard. This keyboard is 80% the size of the full keyboard, has the same low-profile keycaps as well as mechanical key switches. For all of those who are fans of tenkeyless keyboards this could be the perfect thing for you. Read on to see what we thought about it."

Asus Strix Fusion 700 RGB headset

Join us as we check out the Asus top of the line 'ROG Fusion' lineup of RGB/Aura compatible gaming headsets. With a heavy emphasis placed on sound quality (or as is proclaimed), the 700's carry an impressive feature set, with a price tag to match. Shall we see how they fare?