[>>]

[>>]

[>>]

[>>]

More>>

Search...

| | |
| --- | --- |
| General News | |

... 102 news stories awaiting approval

ZADAK SHIELD Double Capacity DDR4 32GB 3600MHz Single Stick

AURA2 RGB lighting which was built ahead of many competitors, the SHIELD DC(Double Capacity) DDR4. Co-developed with ASUS ROG team, it amazingly supports small form factor motherboards of Intel Z390 including ROG MAXIMUS XI APEX, MAXIMUS XI GENE, and ROG STRIX Z390-I Gaming. With the whole new architecture, it achieves not only double capacity of 32GB for single slot, but also high frequency of 3600MHz with impressive stability. Such a widely praised high-end memory module in the PC world comes along once in a lifetime.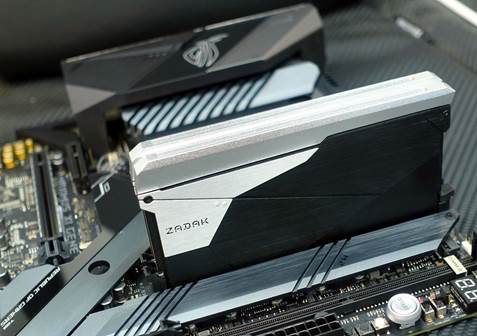 In 2018 ZADAK takes the biggest leap since the original DDR4. SHIELD DC DDR4 comes with double capacity of 32GB for one single stick. The IC dies for SHIELD DC DDR4 were meticulously screened that one IC was chosen out of 10 thousand ICs. ZADAK adopts the whole new architecture with special circuit design on PCB offering double capacity as well as incredible stability under high speed operation. The unprecedented design and functionality of the SHIELD DC DDR4 breaks the limits of inadequate memory on the two-slot platforms. For content creators, 3A gamers, and those gamers who prefer a compact PC for space-saving, ZADAK SHIELD DC DDR4 gives you the double capacity, double speed, and double enjoyment.
The SHIELD DC DDR4 fully supports the latest ASUS ROG Z390 motherboards. It starts at a clock speed of 3000MHz, going up to 3200MHz at a voltage of 1.35V with CL14-14-14-34 and 3600MHz. It comes with single channel packaging as well as kit of dual-channel one with the highest capacity of 64GB (32GBX2). The RGB lighting of SHIELD DC DDR4 is synchronized with ROG AURA2 so users can regulate the preferable colors and manage the LED flashing patterns.
Instead of light diffuser, ZADAK SHIELD DC DDR4 employs the specially-designed chamfer inside the aluminum top bar presenting perfect RGB lighting effect. The metal machining craftsmanship and thicker aluminum material of 1.5mm give multi-layer design on the heat spreader.
Small form factor with only two-slot motherboard had a problem with inadequate memory. The ZADAK team is comfortably over those limits. SHIELD DC DDR4 is a groundbreaking product. For the enthusiast users and gamers who want to get the maximum capacity and high speed of memory module in their system while using motherboards with two slots only now will have the option of opting for ZADAK SHIELD DC DDR4. It will be on the market in late October with the MSRP USD$799/899/999 for 3000/3200/3600MHz.

Samsung Galaxy A7 2018 Preview

Samsung just launched the Galaxy A7 2018 smartphone, with triple rear cameras at the incredible Galaxy UNPACKED KL 2018, and we have the first units! In our preview, we will unbox the Samsung Galaxy A7 2018, and share with you the official tech briefing, a colour comparison and its key features!

Samsung 970 EVO 500 GB

The Samsung 970 EVO is the company's offering for users who want the blazing speeds of NVMe, but aren't willing to pay premium for the 970 Pro. Read speeds of the 970 EVO match the 970 Pro; writes are lower, but still very good with 1.7 GB/s.

Zotac GeForce RTX 2080 Ti AMP 11 GB

Zotac's RTX 2080 Ti AMP is the company's current GeForce RTX flagship. The card is built around a large triple-slot, triple-fan cooler that delivers amazing temperatures of only 65°C. It's the first custom-design that we review that's sold at a price matching the NVIDIA Founders Edition: $1,299.

Ooma Butterfleye Smart Security Camera with Facial Recognition

Recently Ooma has been branching out into the smart home segment utilizing their VoIP Telo units as a hub. Their smart home/home security offering has all the devices you would expect... cameras, motion sensors, door/window sensors, smoke alarms, water sensors, etc. But today we are looking at their latest product, the Ooma Butterfleye, which is an HD wireless security camera with facial recognition.

Metallicgear Neo Micro Aluminum Case Review

In this review we will be looking at the Metallicgear Neo. Metallicgear is a brand we checked out during Computex and while most of the press (and videos) were focused on the new Phanteks Evolv X there was an entire room dedicated to Metallicgear and reasons behind launching a new brand.

AMD Radeon Pro WX 8200 Review: Powerful, Affordable Workstation

Back in August, during SIGGRAPH, AMD announced the latest addition to its professional graphics card line-up, the Radeon Pro WX 8200. Like its predecessors, the Radeon Pro WX 8200 features the distinctive YInMn blue signature color of other Radeon Pro WX cards and is geared towards content creators and creative professionals. This latest addition to the line-up, however, is actually a slight step-down from the current flagship Radeon Pro WX 9100 – sort of. The two cards are both based on AMD's Vega GPU architecture, but the core counts and memory configurations differ between the two. AMD's goal with the Radeon Pro WX 8200 was to drive prices down, while maintaining a similar level of performance...

AMD Radeon Pro WX 8200 Professional Graphics Card Review

AMD's processors have made a big comeback in the professional market, but its most recent workstation graphics haven't met with the same fanfare. The Vega-based Radeon Pro Vega Frontier Edition and WX 9100 are capable 3D accelerators, but the former is a limited edition, and the latter a £1,500 high-end card in the same price range as the NVIDIA Quadro P5000. The Vega range didn't offer anything hugely competitive below £1,000 for professionals. That's all set to change with the AMD Radeon Pro WX 8200.

ASUS Launches Intel Z390 Series Motherboards

Almost exactly one year after introducing six-core Coffee Lake processors alongside Z370 motherboards, Intel® is back with more cores, higher clocks and the new Z390 chipset. The new 9th Generation Intel Core™ processor family offers up to eight cores and 16 threads of parallel processing horsepower that's perfect for content creation, heavy multitasking, and other demanding workloads. With clock speeds as high as 5GHz on the flagship Core i9-9900K, these new processors also raise the bar for gaming performance, especially if you're streaming, recording, and chatting simultaneously.
ASUS is excited to support this new generation of Intel processors with a wide variety of new motherboards based on the Intel Z390 chipset. The collection is led by a diverse cast from the Republic of Gamers that elevates gaming and overclocking to new heights. ROG Strix offers more streamlined alternatives that include a mighty Mini-ITX model, while TUF Gaming focuses on the essentials to hit more affordable price points. Outside the gaming sphere, the Prime family serves up signature ASUS features in a professional package, and the WS sets the stage for serious workstations and prosumer builds.
There's an ROG or ASUS Z390 motherboard for everyone, whether you're a seasoned veteran who tunes to perfection, a hardcore gamer obsessed with performance, or a first-time builder seeking a seamless PC experience. For further details about our ROG lineup please visit ASUS ROG. Our buying guide with complete specifications, pricing and images for the entire lineup of Z390 motherboards is located at Edge Up ASUS.
Since its inception way back in 2006, the Republic of Gamers has set the standard for gaming and enthusiast motherboards. We created the category, and with each new generation our designers and engineers refine the formula in pursuit of faster performance, more customization, and a better overall gaming experience.
For Z390, the Maximus XI series embraces the dark side with blacked-out boards in multiple sizes and variations. It leads with the unparalleled Maximus XI Extreme for dream builds, which is followed by armour-clad near twins in Maximus XI Formula and Code. The Maximus XI Gene rethinks our approach to microATX, and the Maximus XI Hero strikes the right balance in three different flavors. ROG Strix fills the space below the Maximus series with more affordable options that retain the look and feel people have come to expect from the Republic of Gamers. These models keep must-have features for gaming and overclocking but are not as extreme as their ROG siblings. In the Z390 series, the Mini-ITX Strix Z390-I Gaming is joined by three full-sized ATX boards: the Strix Z390-E, Z390-F, and Z390-H Gaming.
TUF offers a new direction for gaming hardware that combines builder-friendly features with battlestation-ready themes. Its unique aesthetic and focus on reliability and gaming essentials are shared by a growing collection of additional hardware we developed in-house, plus contributions from a broader TUF Gaming Alliance made up of industry titans that produce compatible parts. You can already buy matching memory, coolers, and power supplies along with a TUF Gaming case, and additional hardware is on the way.
The TUF Gaming Z390 series spreads across five different models that are ultimately very similar. You can choose between the TUF Z390-PRO Gaming and TUF Z390-PLUS Gaming for ATX along with the TUF Z390M-PRO Gaming for microATX, with WiFi-equipped versions thrown in for good measure.
The recent resurgence of PC gaming is partly responsible for the litany of gaming boards in our lineup, but desktops can do a lot more, especially with eight CPU cores at their disposal. Our WS and Prime motherboards are more businesslike in their approach, with an eye toward professionals and prosumers building powerful machines geared more for productivity instead of play. They also appeal to enthusiasts and even gamers who want many of the same features with an entirely different look.
The WS Z390 PRO loads up on expansion capacity for Coffee Lake workstations, while the Prime Z390-A hits the sweet spot ASUS aficionados expect with each new generation. Basic builds can get by with the Prime Z390-P and Z390M-PLUS.
ROG, ROG Strix, Prime, WS and TUF Gaming motherboards will be available for pre-order in select regions starting on October 8, 2018. Please contact your local ASUS representative for more information.

AMD Dual EPYC 7601 Benchmarks - 9-Way AMD EPYC

"Arriving earlier this month was a Dell PowerEdge R7425 server at Phoronix that was equipped with two AMD EPYC 7601 processors, 512GB of RAM, and 20 Samsung 860 EVO SSDs to make for a very interesting test platform and our first that is based on a dual EPYC design with our many other EPYC Linux benchmarks to date being 1P. Here is a look at the full performance capabilities of this 64-core / 128-thread server compared to a variety of other AMD EPYC and Intel Xeon processors while also doubling as an initial look at the performance of these server CPUs on Ubuntu 18.10."

EVGA GeForce RTX 2070 XC Gaming Graphics Card Review

The NVIDIA GeForce RTX 2070 graphics cards starts shipping tomorrow and we are allowed to post our benchmark review today. This is NVIDIA's newest mid-range enthusiast graphics card that should be widely available in the $499 to $599 price range. Just like more expensive NVIDIA GeForce RTX 2080 and RTX 2080 Ti cards, the RTX 2070 again features the NVIDIA Turing GPU and supports new Turing technologies like real-time ray-tracing as well as DLSS. Read on to see how the EVGA GeForce RTX 2070 XC Gaming review sample performs!

NVIDIA GeForce RTX 2070 (MSI Armor and ASUS Turbo)

NVIDIA today has lifted the embargo for the GeForce RTX 2070. We start off with two reviews today, both will be offered at 499 USD. We have the MSI GeForce RTX 2070 Armor 8G edition and the ASUS Turbo GeForce RTX 2070 8GB. The cards perform nicely, between the GeForce GTX 1080 and 1080 Ti. And that's a comfortable place to sit in this price range.

Nvidia GeForce RTX 2070 Review

Today we have our day-one GeForce RTX 2070 review for you and I suspect like most other publications, we were seriously under the pump for this one. Nvidia's own review guide shows the RTX 2070 easily beating the GTX 1070 and then the 970 before it, though that's a little misleading as it's priced to compete with the GTX 1080 and Vega 64, so those are the models we'll focus our attention on when comparing performance.

EVGA GeForce RTX 2070 XC Review

View this email in your browser The staggered roll-out of NVIDIA's GeForce RTX series of graphics cards continues today with the release of the GeForce RTX 2070. NVIDIA and its partners are at the ready with a wide array of board designs at price points starting at $499. We've got a somewhat pricier, all-custom EVGA board on tap for you here that's packing a dual-fan cooler, configurable RGB lighting, and interchangeable colored accents, the EVGA GeForce RTX 2070 XC...

RTX 2070 launch

To say there is a bit of pressure on the RTX 2070 launch would be an apt assessment. The community wants to see a reason to get excited for new graphics cards, without having to wait for applications to take advantage of the new hardware features like Tensor and RT cores. Conversely, NVIDIA would surely love to see an RTX launch with a bit more praise from the press and community than their previous release has garnered. The wait is no longer, today we are taking a look at the RTX 2070, the last of the RTX-series graphics cards announced by NVIDIA back in August.



The best Guides by the best writers on the internet; PCSTATS Beginners Guides explain computers, software, and all those other wonderful things that cause you frustration.

Learn how to use your computer better, master the internet while protecting yourself, and know what to do when your hard drive kicks the bucket.



"Get the 'Stats and Stay Informed!"