[>>]

[>>]

[>>]

[>>]

More>>

Search...

| | |
| --- | --- |
| General News | |

... 29 news stories awaiting approval


ASRock Z390 Taichi Ultimate

In this review, we peek at one of the more luxurious Z390 motherboards from ASRock, meet the Z390 Taichi Ultimate. ready for 8th or 9th Gen processors this board is about performance, aesthetics and lots of features.

Nixeus REVEL Fit

Nixeus is back in the mouse game with their second model called the REVEL Fit. Is the shape familiar? No wonder as its design is based on the iconic Logitech MX500 series. The specification are great: PixArt PMW3360 sensor, separated main buttons with switches rated for 20 million clicks, rubberized matte black finish, and, of course, RGB lighting.

ASUS ROG Phone Review: Blistering Performance

Do you even game on your phone, bro? Sorry, we'll slap ourselves silly for the obnoxious comment, but it's actually a valid question. Some people primarily use their phone to snap pictures for posting on Facebook and Instagram, while others go old school and -- gasp -- make actual phone calls with their handset. The ASUS ROG Phone does both of those things with aplomb, but it was really built for playing games first and foremost...


Razer Naga Trinity MOBA/MMO Gaming Mouse Review

"After setting up Naga Trinity with our own preferences, we went ahead with testing it in games, but also productivity work; thanks to its wide chassis and shape, it is fairly easy to reach the configurable buttons and in our case we did feel right at home while using a palm grip. The DPI settings can be changed quite easily and Razer does also make use of the Hypershift function, for doubling the button mappings (function found with other manufacturers as well, but with other names). The Trinity name is not there for nothing, you are practically getting a 3-in-1 mouse model."


AOC I1601FWUX Portable 16in USB-C monitor review

Until the halcyon days of foldable and rollable displays arrive, we're pretty much stuck with whatever display size is integrated into our laptops for viewing on the go – or are we? One solution is to add a secondary, portable display, such as the USB-powered 16in AOC I1601FWUX we are looking at today. Great for presenting to clients wherever you are, multi-tasking, watching a movie on the train/plane, or even using at home if you fancy some extra screen real estate anywhere in your house, a sizeable portable monitor can enhance your work and play. Join us as we find out if AOC's new model is the one to go for.

Roccat's Vulcan 120 Aimo keyboard

Roccat's Vulcan 120 Aimo keyboard cuts a striking profile with its skirtless key caps and in-house Titan switches. We put the Vulcan 120 Aimo to the test to see whether a new spin on mechanical key switches is enough to help it stand out in a crowded market.

ASUS TUF Gaming H5 Review

Today we'll be taking a look at one of ASUS's own TUF products which takes the shape of their TUF Gaming H5 headset. The Gaming H5 is a versatile headset that can be used not only on PC but also Mac, console and even mobile. Some of its core attributes include some 50mm Essence drivers, onboard 7.1 virtual surround sound, a dual microphone setup and support for their Armoury software.

Patriot EVLVR Portable Thunderbolt 3 SSD Review

Patriot is perhaps one of the lesser-known PC component and accessory manufacturers in comparison to large players like Kingston or Corsair, but the Northern California-based company has actually been around since 1985. About 10 years ago, Patriot launched its Viper Gaming brand, which offers high-performance gaming memory and peripherals. The product we have today, the Patriot EVLVR, is from Patriot's more business-facing product lines and it is an external, portable NVMe SSD which employs the Thunderbolt 3 interface for full PCIe Gen 3 performance capabilities...

Deepcool MATREXX 55 Series PC Case

Deepcool is a company that was built with the vision of providing the finest PC DIY solution for worldwide customers by constantly seeking innovative breakthroughs. Building on the successful achievements in its previous MATREXX 55 PC Case, today Deepcool announces the expansion of its MATREXX 55 PC Case family with two new members-- MATREXX 55 ADD-RGB & MATREXX 55 ADD-RGB 3F.

The lighting system includes 5 pre-programmed lighting effects (dynamic color, static, breathing, comet and fashion collision) and can be easily controlled by the RGB button on the I/O panel or motherboards with addressable RGB sync function. In particular, MATREXX 55 ADD-RGB 3F PC Case additionally has 3pcs of 120mm Addressable RGB fans (CF120) to give you a boost of the gaming ambience.
Besides the included fans and LED strip, the case also enables you to add on more RGB devices by including two RGB connectors -- one for Deepcool/Gamerstorm ecosystem and one for universal 5V 3-pin headers. Now 5V ADD RGB devices of any brand can be brought into this system.
Full sized 4mm thickness, tempered glass side panel and a front panel give the case a unique look to perfectly show off your inner structure
MSRP: (EX. VAT)--MATREXX 55 ADD-RGB: $49.99 USD

SilentiumPC Regnum RG2 TG Pure Black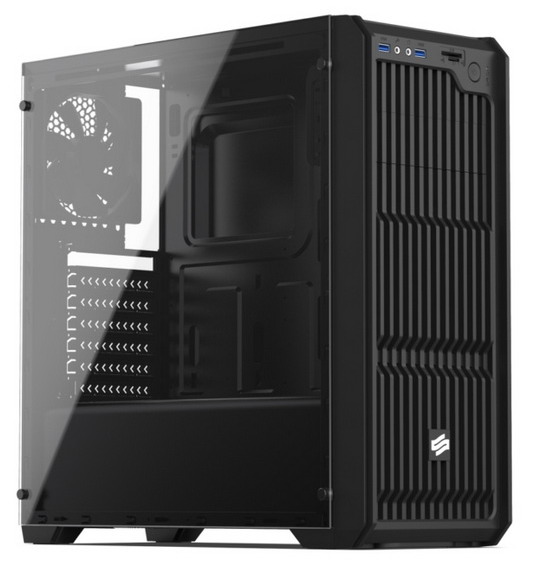 The European cooling and PC case brand SilentiumPC upgrades its airflow-oriented Regnum RG2 case by adding a tempered-glass side-panel. While being part of the entry-level portfolio of the SilentiumPC lineup, Regnum RG2 has surprisingly much to offer. It merges a bold yet classy front-panel with a modern interior layout and an extended I/O panel, making it a great choice for reasonably priced gaming systems.
Regnum RG2 TG is designed to surpass the user's expectations of an average entry-level chassis. The clean and well balanced exterior design with a big tempered-glass side-panel gives a great view on the components inside the roomy interior. SilentiumPC uses the dual-chamber layout, which dramatically improves airflow and benefits cable management.
Being compatible with ATX motherboards, long power supplies, graphics cards up to 380 mm and CPU coolers up to 160 mm, it allows for flexible choice of components. Also available are two external 5,25" drive bays as well as two 3,5 and two 2,5" internal drive bays for desired HDD/SDD configurations.
The chassis comes equipped with two quiet Sigma PRO 120 mm fans and supports up to six 120 mm fans in total. By installing the first case fan in the front and the second one in the rear of the chassis, Regnum RG2 is able assure great airflow right out of the box. All intake holes are covered with dust-filters. Regnum RG2 is also compatible with both single and dual radiator all-in-one watercooling solutions.
All I/O ports are located at the top of the panel, including power and reset buttons, mic and headphone jacks, two USB 3.1 (Gen. 1) ports and a built-in card reader for both SD and MicroSD cards.
The Regnum RG2 TG is going to be available in the next days at 39,90 EUR (MSRP, incl. VAT) in Europe.

ECS to set up new factory site in Southeast Asia

Elitegroup Computer Systems (ECS) will set up its second factory site in Southeast Asia with volume production expected to begin in March or April 2019, according to company general manager Yang Lung Kuang.

EVGA Z390 FTW Motherboard Review

"One company that sort of hides under the radar when we have a new chipset launch is EVGA. We all know EVGA for their graphics cards, but their motherboards are less known. One thing I've liked about EVGA is how they haven't conformed like everyone else and overloaded their motherboards with RGBs and things that just aren't needed. With the Z390 launch EVGA's first motherboard is the Z390 FTW, which is will eventually sit in the middle of their Z390 product stack once other boards are launched. This board looks quite similar to the Z370 FTW board, but does have a few changes. We will be combining this board with our Core i9-9900K to see what it can do! Read on to find out!"



The best Guides by the best writers on the internet; PCSTATS Beginners Guides explain computers, software, and all those other wonderful things that cause you frustration.

Learn how to use your computer better, master the internet while protecting yourself, and know what to do when your hard drive kicks the bucket.



"Get the 'Stats and Stay Informed!"