| | |
| --- | --- |
| General News | |

... 74 news stories awaiting approval
Samsung PNE7000FF Review @ TechReviewSource.com

With companies like Samsung, Panasonic, and LG continuing to release new models, it`s safe to say the death of plasma HDTVs has been greatly exaggerated. The Samsung PNE7000FF line of Smart TVs are a great example of why plasma technology continues to hang on in a market dominated by LCD-based products."

MWC 2013 Gallery @ HardwareHeaven.com

This week saw the 2013 MWC take place in Barcelona, Spain. Senior Editor Stuart Davidson headed along to find out what`s on the horizon in the mobile world..."

Thermaltake Chaser A31 Case

The Thermaltake Chaser A31 is the next PC-Case in the Technic3D Editorship. The Chaser A31 supports ATX and Micro-ATX motherboards and have place for six 120mm Cooling-Fans. We will check this and many more in the following Review."

Asrock debut's a nice chassis at CeBIT 2013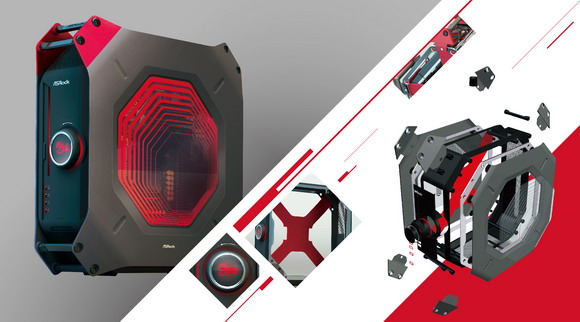 What do you get if you cross a creative consultancy with expertise in automotive and industrial design with the leaders of motherboard designing? Hint hint, it's covered elegantly in crimson and black, bearing muscular yet smooth angles. BMW Group DesignworksUSA and ASRock is here with a definitive answer – an icon like gaming PC. "You just wait. This collaboration between BMW Group DesignworksUSA and ASRock is totally going to knock your socks off and show up on your Dear Santa letters!" exclaimed James Lee, vice president of ASRock.
Sonja Schiefer, Director of Design, Munich Studio, BMW DesignworksUSA , stated, "Our goal was to create desirability and iconic differentiation in a mini PC. We reached this goal thanks to a design language focused on superlative and a solution that was very much an exaggerated mode of expression."

NEWS SSD Maker KingFast Unknowingly Sends Counterfeit SSD With Fake Memory For Review

Arguably, the two most important components of an SSD are the controller and NAND flash memory. In the memory industry, manufacturers may dispose of sub-par memory on the open market where, at least in the case of SSDs, more suitable applications may be found. The potential downside to this commonplace practice is the memory has the potential to be counterfeited and sold, while often suffering performance or capacity concerns. Up until this report, we have yet to see any instances of counterfeit SSDs. This analysis provides pictures, identification and full analysis of a fake SSD, offering the consumer a tool to assist should they ever believe that their SSD ?just isn?t quite what it seems?"

Intel cuts March motherboard orders by 80%

Intel has reduced its motherboard orders for March by 80% to only 100,000 units, realizing its announcement made at the beginning of 2013 about quitting the brand motherboard market, according to sources from the upstream supply chain. Since Intel originally promised its upstream component partners that it will keep its monthly motherboard orders at 400,000 units in the first half of 2013, the component makers are now in a hurry seeking motherboard makers that are willing to take over their excessive inventory.

Tenda W311R+ Review @ Vortez

The W311R+ 150Mbps wireless router provides an excellent solution for experiencing better wireless performance while sharing a broadband Internet connection with multiple computers over a secure wireless network."

5 Gadgets To Look Out For In 2013 @ ThinkComputers.org

2013 has already started out to be an exciting year. One of my favorite things to do is see what cool gadgets will be coming out each year. You should see all of these Gadgets this year and they are very exciting and innovative. While a few perform simple tasks others seems like they are out of the future. So here are my 5 Gadgets to look out for in 2013. After you are done reading the list let me know what gadget you are looking forward to the most."

be quiet! Pure Power 630W PSU

The be quiet! Pure Power BQT L8-CM-630W PSU arrived Technic3D. See you in the following Review from Technic3D the next PSU with two +12V rails (30A), a 120mm Silent Wings Fan, 5x SATA hard disk connectors and 2x PCI-e 6+2-Pin."

GeForce GTX 680 Listing Upated @ Ocaholic

Just a list of all GeForce GTX 680 around sorted by manufacturers with pics, specs and prices. If you think or see that some are missing/there are mistakes, please leave a comment and we will add/fix it as soon as possible."

Rosewill Gaming Keyboard RK-8100 @ Benchmark Reviews

Despite being a PC gamer since receiving MechWarrior 2: Mercenaries for my parents` ancient Epson back in 1995, I`ve never really had a keyboard specifically designed as a gaming keyboard. They`ve always been generic office things from Microsoft or Logitech. At a relatively low $24.99, Rosewill targets this well-featured peripheral at the budget-conscious gamer. It features a number of bells and whistles to appeal to a gaming audience. In this article, Benchmark Reviews tests the Rosewill Gaming Keyboard RK-8100 (model RIKB-11003)."

Mushkin Atlas Deluxe mSATA 30GB SSD Review @ Legit Reviews

While our performance comparison was limited to only one other drive of the same capacity, that comparison drive is probably is on top of the mSATA 30GB heap being an Intel 525 Series drive. That makes is a very nice yardstick to measure up the bantam Atlas Deluxe drive. In that regard, the Atlas measures up very well with performance numbers that are very robust for a drive of this size. The maximum performance attained is 555MB/s sequential reads and 379MB/s sequential writes. This is with compressible data and, like all SandForce drives, things change a bit when incompressible data is thrown at it. Max performance drops to 200MB/s reads and 40 MB/s writes which is on par with Intel 30GB drive as it features the same controller..."

Synology DS213air Review @ Vortez

Under the spotlight today is something quite special. Back in October of last year Synology released the DS213air; a 2-bay NAS incorporating WiFi technology. A first for the company and one that will be certain to entice the storage cohorts."

Nanoxia Deep Silence 2 Midi Tower PC Case Review

The introduction of high quality PC cases with lots of features, spacious interiors and designs to match the above from the top manufacturers such as Lian-Li, Corsair, Cooler Master, Thermaltake and Silverstone is something that all of us more or less expect from companies that have been around the block for many years and pretty much know what consumers want. However what is least expected by everyone is when a brand new manufacturer emerges and manages almost with no delay to design and manufacture a PC Case that can rival those manufactured by the leaders in the field. Nanoxia is not really new since they`ve been around for quite a few years manufacturing top notch fans and fan controllers but it wasn`t until a few months back that they started the design and manufacture of PC cases such as the Deep Silence 1 we reviewed a while back. Well it seems that they are here to stay so after the very successful test run of their Deep Silence 1 Midi Tower PC Case they released the Deep Silence 2."


Gateway SX2380-UR318 Review @ TechReviewSource.com

The Gateway SX2380-UR318 is a great choice for the price-conscious PC buyer. It has a lot of the features that were optional only a few years ago, like DX11-compatible graphics, 1TB hard drive, dual core AMD A6-5400K processor, 6GB of memory, and dual-band 802.11 a/b/g/n Wi-Fi."