New high-end mainstream VGA card with "nVIDIA® NV36 GPU" + "900 MHz DDR ll" Powerful new FX5700U VGA card features DDR II Memory!
Albatron Technology Co. LTD., a manufacturer and global distributor of high technology PC components recently announced the new GeForce FX5700U graphics card. The GPU (FX 5700 Ultra - NV36) on this board is currently being highly touted by nVIDIA® and contains impressive performance capabilities including a 475 MHz GPU clock speed and a DDR II memory interface capable of 900 MHz. This card also comes with nVIDIA®'s latest versions of CineFXTM (ver 2.0), Intellisample HCT (High-resolution Compression Technology), and UltrashadowTM Technology, making up the industry's most powerful suite of firmware and software technology for the graphics market.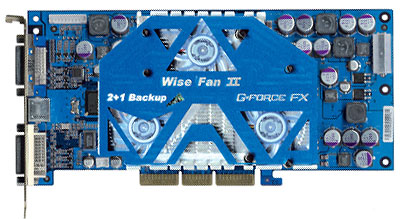 nVIDIA®'s FX 5700 Ultra GPU features an enhanced second-generation release of CineFXTM (ver 2.0) and Intellisample antialiasing with HCT (High-resolution Compression Technology). These versions come with new features and improvements used to produce the highest quality graphics with uncanny 3D rendering, shadow manipulation and pixel perfect resolution. UltrashadowTM Technology also further enhances shadow display by providing extensive shadow manipulation and processing techniques. nVIDIA® also continues to develop for OpenGL® 1.5 and Microsoft DirectX® 9.0 applications ensuring a perfect fit for a wide variety of complex gaming software.
The FX5700U has been equipped with a patented "2+1 Backup", triple-fan cooling system which has been upgraded from the previous "Wise Fan" and dubbed "Wise Fan ll". With the "Wise Fan II", the third fan (backup fan) will startup when any of the two primary fans malfunction or when the GPU temperature reaches 56°C. This provides ultimate protection for extreme-condition graphics performance. With the additional fans for this card, Albatron has also gone to great lengths to suppress fan noise down to about 25 dBA, almost 10 dBA less than most fans on the market today. This card comes equipped with a versatile lineup of interface ports including D-Sub, DVI and TV-Out. Bundled software includes WinDVD Creator, "Duke NuKem: Manhattan Project" (retail version) and a 5 in 1 game pack CD-ROM. The Albatron GeForce FX5700U VGA was built for performance and reliability and focuses on providing the mainstream market a very attractive high-end alternative.