---
Gigabyte's Dual GPU "3D1" Videocard
Date: Thursday December 16, 2004
Category: Video Cards
Manufacturer Link: Gigabyte
| | |
| --- | --- |
| GIGABYTE technology innovates the world NO.1 3DMark 2003 performance graphics card of the world which uses 2 pcs Nvidia 6600GT GPU in one card and named "3D1". | |
Gigabyte's Dual GPU "3D1" Videocard
GIGABYTE technology innovates the world NO.1 3DMark 2003 performance graphics card of the world which uses 2 pcs Nvidia 6600GT GPU in one card and named "3D1". It is the only one 6600GT card built with 256MB DDR III memory and supported 256bit memory bandwidth as well. "3D1" is the performance champion in visual gaming world definitely compared with other competing graphics cards.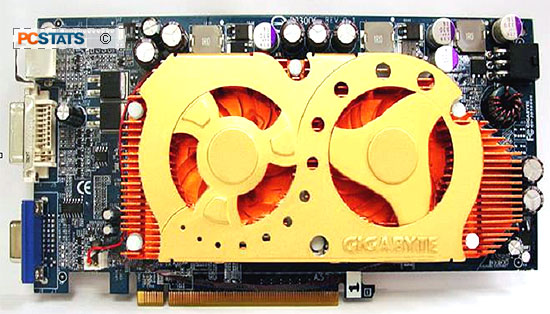 Superior Features
Powered by dual GeForce 6600GT.
First 6600GT card be built with 256MB DDR III memory.
First 6600GT card supports 256bit memory bandwidth.
"3D1" takes advantage of the dual fan cooling system to control the airflow sucked and pushed out for remaining in low GPU temperature and reduces the noise of the fan.
To achieve 3DMark 2003 performance over 14,000, and to create a new milestone of the graphics card.
To support with GIGABYTE unique overclocking utility V-TUNER 2, and let customers can tweak two GPU simultaneously.
Support HDTV output
To bundle selling with GBT extra performance 8S series GA-K8NXP-SLI motherboard to provide the most deluxe gaming package.

Testing Configuration: Athlon 64 3000+ CPU, GBT GA-K8NXP-SLI motherboard, 512MB DDR 400, SATA 7200RPM HD, Windows XP,3DMARK 2003 ver.3.4, nVidia Driver Ver. 70.80, Ati Driver Ver. 8.082 Specifications:
Spec: 3D1
GPU: Dual 6600GT
Memory Size: 256MB DDR III
Memory Bandwidth: 256bit
Memory Clock: 600 MHz
Core Clock: 500 MHz
Direct X: 9.0C
D-SUB: Yes
HDTV: Yes
DVI Port: DVI-I