---
Matrox introduces parhelia-512
Date: Tuesday June 18, 2002
Category: Video Cards
Manufacturer Link: Matrox
| | |
| --- | --- |
| Groundbreaking technologies take 2D quality and 3D realism to a new level | |
Matrox introduces Parhelia™-512-based line of graphics accelerators
Groundbreaking technologies take 2D quality and 3D realism to a new level

Montreal, Canada, June 18th, 2002—Matrox Graphics Inc., the leading professional graphics company, announces the Matrox Parhelia™ family of graphics accelerators — the first graphics boards based on the revolutionary, new Matrox Parhelia-512 high fidelity GPU. Delivering the highest quality, excellent performance and unique features, the Matrox Parhelia line of graphics boards is the first to offer a multitude of new features, including a full 256-bit DDR memory interface, partial compatibility with Microsoft® DirectX® 9.0 and the most advanced multi-display computing capabilities.
quote
"We are excited to see hardware implementation of an important part of Microsoft DirectX 9.0 technology in the Matrox Parhelia graphics adaptors," says Channing Verbeck, Director of Windows Graphics and Gaming Technologies at Microsoft Corp. "With its DirectX 9.0-compatible Quad Vertex Shader Array and Hardware Displacement Mapping support, Parhelia takes a significant step toward increasing the realism of 3-D graphics. And, with Parhelia's support for innovative multidisplay features such as TripleHead Desktop, its users will greatly benefit from the enhanced productivity made available by running Windows XP in a multimonitor environment."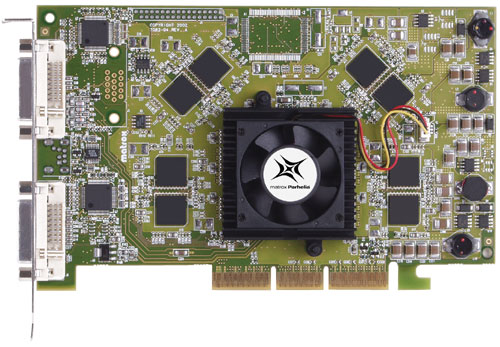 Matrox Parhelia graphics adaptors represent the highest quality 2D and 3D multi-display computing solutions available on the market. Ideal for desktop publishing, web design, software development, digital photography, video editing and gaming, the Matrox Parhelia is targeted to the 2D workstation, professional and PC enthusiast markets.

"Matrox has a long history of leadership in professional graphics, display quality and multi-display computing," says Jon Peddie, president, Jon Peddie Research. "With Parhelia, Matrox brings substantial ingenuity and compelling features to the 2D workstation and high-end enthusiast markets."

Widest variety of display outputs
All Parhelia boards are full-height ATX form factor with two DVI-I connectors integrated on the bracket, and allow Matrox to offer the widest variety of display output options on the market:


Dual independent DVI-out at 1600 x 1200 resolution each (165MHz)

Dual independent RGB-out at 400MHz each (dual 2048 x 1536 @ 85Hz)

Triple independent RGB-out in extended desktop mode at 3840 x 1024 32bpp

Various mixes of DVI-, RGB- and TV-out
The full flexibility of display configurations are offered to end users by the standard bundling of three cables/adaptors:


One "Y-shaped" DVI-I to dual HD-15 cable

One DVI-I to HD-15 adaptor

One HD-15 to S-video and composite cable
Matrox Parhelia boards employ highly developed electronics and fifth-order filters, which-coupled with the Parhelia's dual 10-bit RAMDACs-ensure that signal quality is maintained at the highest frequency desktop settings, resulting in flicker-free, ultra-crisp displays, free of any pixel ghosting, sparkling or shadowing artifacts to deliver the highest-fidelity RGB, DVI and TV outputs.

The Matrox Parhelia boards deliver the fastest 2D performance, and are the first full-speed AGP 4X devices capable of accelerating 3D across three monitors. All boards offer an incredible range of cutting-edge 2D and 3D features, including 10-bit GigaColor Technology, four quad-textured pixels rendered per clock, 64 Super Sample Texture Filtering, 16x Fragment Antialiasing (FAA-16x), Glyph Antialiasing, a Quad DirectX 9 Vertex Shader Array, a 36-op pixel shader array, and many more.

Surround Gaming
For the ultimate gaming experience, Matrox Parhelia boards uniquely offer Surround Gaming for three- display game play, providing the most immersive 3D experience for many popular gaming titles including: Flight Simulator 2002, by Microsoft Corporation; Quake III Arena™, by Id Software™/ Activision®; Return to Castle Wolfenstein, by Gray matter and Id Software, Inc./Activision; Star Wars Jedi Knight II: Jedi Outcast™, by Raven Software/LucasArts® Entertainment Company LLC; Unreal® Tournament 2003, by Digital Extremes and Epic Games, Inc./Atari®; Imperium Galactica 3: Genesis, by Philos Laboratories/CDV Software Entertainment AG, and many, many more.

Included software
All Matrox Parhelia graphics boards will ship standard with full-featured drivers for Microsoft Windows XP and Windows 2000 including support for Microsoft DirectX 8.1 and OpenGL® . Parhelia comes with Matrox's completely new PowerDesk-HF utility suite, providing easy-to-use controls for hardware configuration and multi-display desktop management.

Parhelia is bundled with a special version of the Waytech Coloreal® advanced color calibration system. The Matrox version of Coloreal takes full advantage of the Parhelia's dual, high precision 10-bit RAMDACs and allows users to precisely color match multiple monitors.

Also included is the Matrox GigaColor plug-in for Adobe® Photoshop®, allowing users to view extremely high color .TIF and .PNG files in 10-bit per color channel employing one billion simultaneously displayed colors. This applet is launched through Adobe's plug-in architecture and allows interactive viewing of images at the highest fidelity.

Matrox technology demos include the stunning Reef demo-which showcases Parhelia's 3D technology and includes more than 100 realistic underwater denizens rendered simultaneously-and demos of Matrox's Hardware Displacement Mapping, which provides a new method of representing and rendering complex 3D geometry using a simple and compact data representation for the most realistic 3D scenes.

Pricing and availability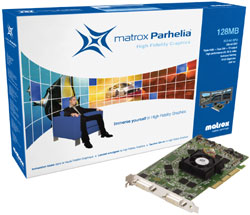 At introduction, Matrox Parhelia graphics boards will be available with 128MB of DDR memory in both retail and bulk packaging. The retail packaged version of the Matrox Parhelia 128MB board will have an estimated street price of US $399 and both versions are expected to begin shipment by June 30th, 2002. Additionally, Matrox plans to bring a 64MB and a 256MB version of the Parhelia to market later this summer.

About Parhelia™-512
A source of unparalleled quality, excellent performance, and the widest range of innovative features, Parhelia™-512 is designed to bring outstanding graphics quality to professional users and PC enthusiasts alike. This AGP 4X, 80 million transistor, 0.15µ, 2D, 3D and DVD/video GPU supports a unified frame buffer of up to 256MB in size and features a true 256-bit DDR memory interface. Parhelia™-512 delivers advanced multi-display computing with support for TripleHead RGB output, DualHead digital output and TV output for the ultimate in high fidelity graphics. With an unprecedented number of groundbreaking technologies, Parhelia™-512 takes 2D quality and 3D realism to a whole new level.

About Matrox Graphics Inc.
Matrox Graphics Inc., the leading professional graphics company, has been delivering high-quality, innovative 2D/3D and video graphics accelerators for more than a quarter century. Pioneer of the trend-setting DualHead® technology, Matrox is a graphics chip designer and board manufacturer whose products have been awarded over 1,000 times worldwide for their superior image quality, practical ingenuity and unwavering stability. A privately held company headquartered in Montreal, Canada, Matrox has international offices in the United States, the United Kingdom, France, Germany, Italy, and Hong Kong. Information on Matrox products, drivers, technical support and more can be found at: http://www.matrox.com/mga/.