Abstract: Iwill P4R533-N is based on the Intel i850E chipset which combined with the 82801 ICH2 southbridge offers host bus, memory and I/O interfaces capable of running on either 400MHz or 533MHz FSB.
78% Rating:
Home > Reviews > Motherboards > Iwill P4R533-N
Issues with the Northbridge heatsink
All was not rosy as we ran the Iwill P4R533 through a few sets of overclocking benchmarks. At first we had a lot of overclocking stability problems with the board which we were able to get up to 148FSB for a while.
| | |
| --- | --- |
| | |
| | |
It would seem to boot fine enough at that FSB, but would crash out of 3DMark2001 half way through so that was a sign things were running unstable. We upped the Vcore to 1.75volts and that helped at first, but then we would have some really interesting clock changes mid-benchmark - again a sign things were unstable.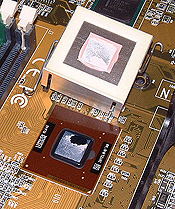 We saw some semi-stable overclocking results with the 1.6A Pentium 4 at 2.32GHz (145x16 @ 1.725Vcore), but nothing that would last for more than a few minutes or so. Finally, after a note from Iwill that they had since replaced the passive northbridge heatsink with an active cooler (on the retail versions) we put a fan to the i850E and saw things turn around.
With a fan blowing down onto the passive i850E heatsink we were able to run the Iwill P4R533-N rock stable at 2.27GHz (16x142MHz). Vcore was set to 1.575volts and the 256MB of kingston PC1066 RDRAM run at 400MHz. I'm sure the new updated northbridge fan that Iwill will be shipping with the board from now on will give you a bit more room to breath, but just to be on the safe side we used something a little more powerful.
BAPco Sysmark 2002 takes a couple hours to run all the way through, and having it restart because of a finicky system is right up there with going to the dentist for a root canal. We pretty much ruled that out by using a 38mm Delta 7000RPM fan to cool that northbridge <grin!>.
Interestingly, the one instance when we moved the fan away from the heatsink for about 20 seconds caused the system to freak out and become instable. Both the i850E chipset and PC1066 RDRAM get quite hot after a good run of benchmarking (estimate: 45-55 degrees) so good case ventilation with this set up is high recommended, especially if you are taking the Iwill P4R533-N for a walk down the overclocking path.
Overclocking:
Our overclocking adventures with the P4R533-N was not very fun. We could just not figure out why the system was having stability problems. The system would POST as high as 152 MHz, but would BSOD while loading WindowsXP. It would load into Windows successfully at 150 MHz and lower but any sort of stress would cause the system to either crash or reboot.
After tinkering with cooling the northbridge the highest stable FSB we could get was 142 MHz. Obviously we'll take free performance but we're a little surprised that it didn't go any higher!
SEARCH PCSTATS

---

Use the power of Google to search all of PCSTATS and the PCSTATS Forums. Tell us what you think of this new feature - FEEDBACK?